Post by SeReN on Feb 10, 2008 16:25:45 GMT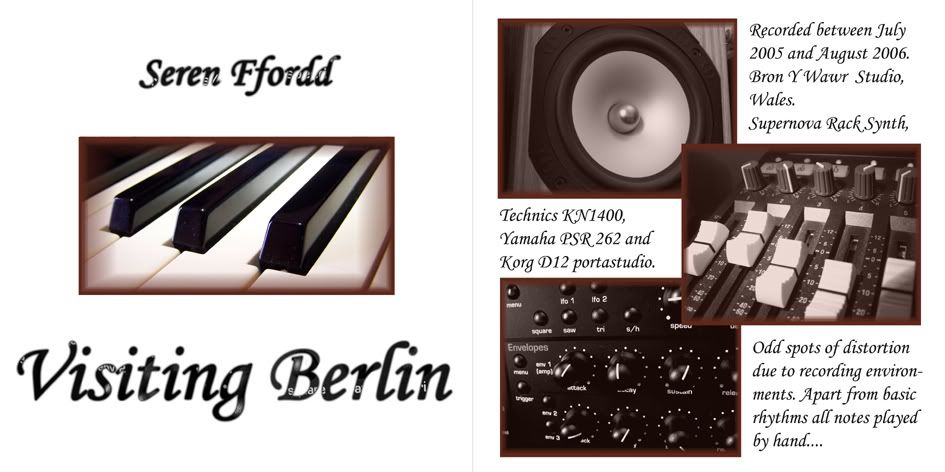 Visiting Berlin: Originally recorded between July 2005 and August 2006.
Visiting Berlin was intended as both a pun, and an honouring, of the early sequencer music that inspired and caught my attention as a youngster. I have to admit that even now I am only really beginning to see what can be achieved with the modern sequencers thanks to seeing the HJJ 2007 gig.
Having not listened to EM, or any music for twenty years, I only had those memories of my youth to go on as inspiration for these pieces.
The Mists of Time (16m49S) was played on the Yamaha PSR 262 and Korg D16. Apart from the drum patterns from the Korg, every note and rhythm is played by hand, which took a few takes! The drum patterns layered different time signatures, which somehow wove together quite nicely.
Visiting Berlin (20m33s) was played on the Technics KN1400 and Novation Supernova. For me this was the track that turned the music into the title of the album. Soundscape beginning, sequencer rhythms evolving with some tune and melody and then ending with another soundscape. It was great fun putting the rhythms together and realising that the digital technology meant they all stayed in time…..much easier than the tape or analogue sequencer of my youth.
Early (10m08s) and Repose and Rest (3.22) were both recorded very early one morning, just the Supernova providing all the sounds.
Visiting Berlin is available from me direct for £7 including postage, cheque or paypal. PM me if you are interested